Email marketing
Keep your name in front of clients and generate more business
Email marketing is a cheap and easy way to get your message out. Contact us for more information.
Get in touch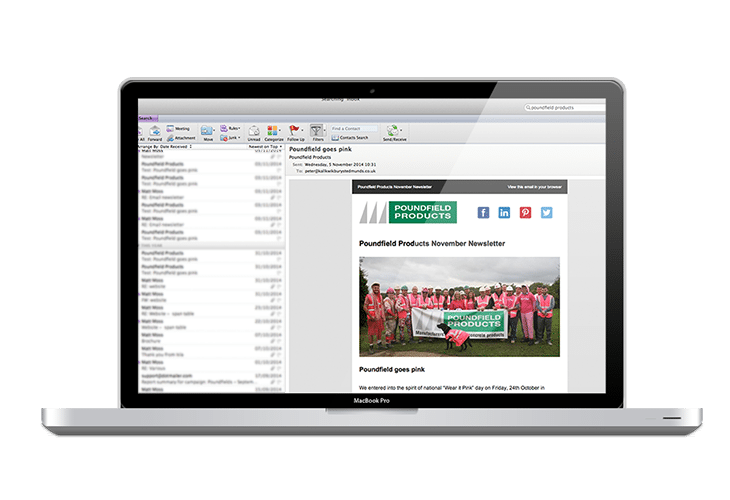 Consider the benefits
Email has become such a fundamental part of doing business now. It's also a great way to keep in contact with your customers in a very economic way. A well thought-out email campaign can keep your name in front of clients and generate more business particularly when offering sales promotions.
Emails can be targeted to individuals (so it's essential to build up a good database of addresses)
It's significantly cheaper than sending a mailer in the post.
Email marketing can be implemented quickly so if you want to get a message out fast to take advantage of a market opportunity you can.
You are able to monitor the success of campaigns (how many people opened the email, how many clicked through to your web site etc)
Email is great for offer based propositions – customers can place an order easily via the email.
They're great for internal communication within a business.
Building a good email list
Your email list is your most important asset. Make sure you collect email addresses as you deal with your customers.
We don't recommend buying in an email list as the open rates tend to be a lot lower if they haven't heard from you before. However, in some circumstances there may be no alternative, especially if you are starting a business from scratch.
Consider the following options:
Add a Join our mailing list button on your website
Produce a newsletter which people can sign up to
Ask your customers if they would like to receive information on special offers from you by email (you could produce a simple card and then include with any orders you send out)
Keeping it legal…
We understand the laws surrounding mass emailing customers and businesses. For example, you must legally make it easy for your customers to unsubscribe. As well as being a legal requirement, it also makes good commercial sense. Why send something to someone if they don't want to receive it – it wastes your money and their time.
We will make sure your emails allow this and any unsubscribers will automatically be exclude from future mailings – you don't have to worry about updating your mailing list – we do it all for you.
Monitor the results
We have all heard of the old saying that "half of my advertising works, but the problem is I don't know which half". This doesn't need to happen with email marketing. We provide a report showing you how many people have opened the email, how many clicked through to your web site, how many unsubscribes there have been etc.
As well as providing the report – we will actively monitor the result ourselves and make suggestions on how we can optimise for greater read and click through rates.
Request a quote
Contact us for a price on 01284 752266.
Contact Us
Kall Kwik Bury St Edmunds, Burridge House, Brunel Business Court, Eastern Way, Bury St Edmunds, Suffolk, IP32 7AJ, United Kingdom

Registered in england number 4778685
Your account will be closed and all data will be permanently deleted and cannot be recovered. Are you sure?