Pens
We've got an unbelievable range of pens, all with your name on!
The promotional pen is still one of the most popular branded giveaways.
Contact us
The promotional pen is still one of the most popular branded giveaways. And it's not hard to see why. They are excellent value for money and help to keep your name in front of your customers all year round.
From pens to pencils to highlighters – whatever you're looking for we have something that is sure to appeal to you – all just waiting for your logo.
With literally thousands of different options on pens, it can sometimes be difficult to know which one to choose.  To help, we've shown below six of our most popular pens. If you need any help simply call us and we'll talk you through the various options available to you. Send us your logo and the branding message you want and we'll pick out some which are more suitable for you.
Contour Standard Ballpen
Minimum Order Quantity: 250 pens.
Attractive push-button retractable ballpen with translucent body, chrome fittings and a comfortable matching coloured rubber grip.
Colour range includes 10 popular colours.
Contour Digital Ballpen
Minimum Order Quantity: 250 pens.
Newly patented barrel has been designed to exploit the full potential of the digital printing process. This allows for a degree of print quality not always available on other pens.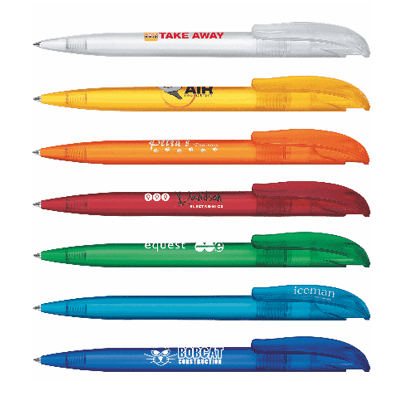 Challenger Pens
With plenty of colours and premium soft-touch finishes to choose from, the Challenger offers endless possibilities.
Electra Metal Pen
Popular style, push button black ink aluminium pen in a stunning range of bold lacquered colours.
Super Hit Professional Pens
Ever-popular and a million-seller — the attractive original Senator® design is music to the ears thanks to the striking clip push mechanism and reliable functionality.
Lite Touch with touch stylus
Best-selling twist action ballpen with touch stylus for use with your smartphone or tablet.
Examples of pens we have printed for our customers
Below are a few examples of pens we have branded. Click to expand.
Recognition Express Suffolk
Our sister company, Recognition Express Suffolk, specialises in promotional products, badges, trophies & awards and corporate clothing. All orders for these products will be handled by the team at Recognition Express. You can contact them direct on 01284 752272 or sales@resuffolk.co.uk.

We also have an online catalogue which showcases just some of the wide range of products we are able to supply. Click here to view promotional products available in Suffolk.
Kall Kwik Bury St Edmunds, Burridge House, Brunel Business Court, Eastern Way, Bury St Edmunds, Suffolk, IP32 7AJ, United Kingdom

Registered in england number 4778685
Your account will be closed and all data will be permanently deleted and cannot be recovered. Are you sure?