Newsletters
We can design & print all your corporate & village newsletters
Contact us to arrange a on 01284 752266 for a quote your project further.
Request a quote
Corporate Newsletters
Newsletters are a perfect way to keep in front of your customers on a regular basis. We can help in designing your newsletter for you, can print onto a wide range of different papers, and can even help in copywriting as well.
Village Newsletters
Every month we print thousands of village and parish newsletters which are distributed throughout the Bury St Edmunds and Ipswich areas. If you operate a club or society in Suffolk and need to produce a quality newsletter for your members why not contact Kall Kwik to provide you with a quote.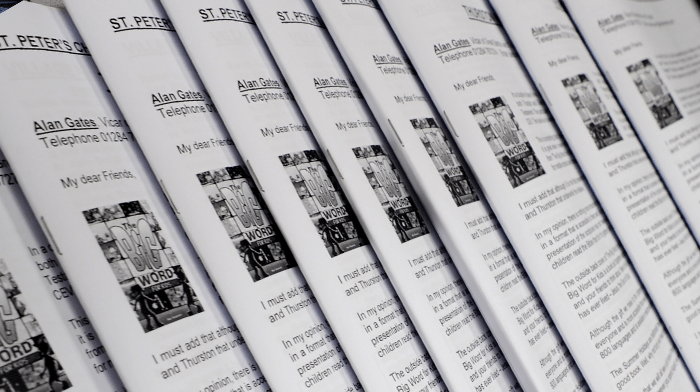 Clubs' & Societies' Newsletters
If you are the editor of your club's newsletter let Kall Kwik do some of the hard work for you. We can staple, fold or booklet-make your newsletters, leaving you more time to concentrate on the design and content. With the ever increasing cost of postage if you mail them to your members it may be worth talking to us to see if we can save you money and lots of time.
For many clubs that use our direct mail service they find that they can hand the whole job over to us and we'll print the addresses, insert their newsletters into envelopes and post them out using franked mailing rates, and it costs no more than if they had done it themselves using stamps.
Call us now on 01284 752266 and we'll talk through the options available to you.
Request a quote
Contact us for a price on 01284 752266.
Contact Us
Kall Kwik Bury St Edmunds, Burridge House, Brunel Business Court, Eastern Way, Bury St Edmunds, Suffolk, IP32 7AJ, United Kingdom

Registered in england number 4778685
Your account will be closed and all data will be permanently deleted and cannot be recovered. Are you sure?